Acitalan15 15 min. 20 min.
November is officially here! Can you believe we only have 2 months left until 2015? What is this nonsense? I don't like to think about it too much because then I get anxiety about my future, and then what good does that do any of us? So instead of worrying, I have decided to put my thoughts and efforts into baking!
Last week I tried a pumpkin mug cake and was not very happy with the outcome. So this week I found a new pumpkin cupcake recipe that I thought I'd give a try. This recipe is from Yammie's Noshery and seemed to be very promising. The entire recipe seemed to have a fall feeling to it, so I thought it would be a great way to get into the Thanksgiving spirit!
For the cupcakes you will need:
1 cup pumpkin puree
2 eggs
1/2 cup vegetable oil
1 teaspoon vanilla
1 cup sugar
1 cup all-purpose flour
1/2 teaspoon salt
3/4 teaspoon baking soda
1/2 teaspoon baking powder
1 teaspoon cinnamon
1/4 teaspoon nutmeg
1/4 teaspoon cloves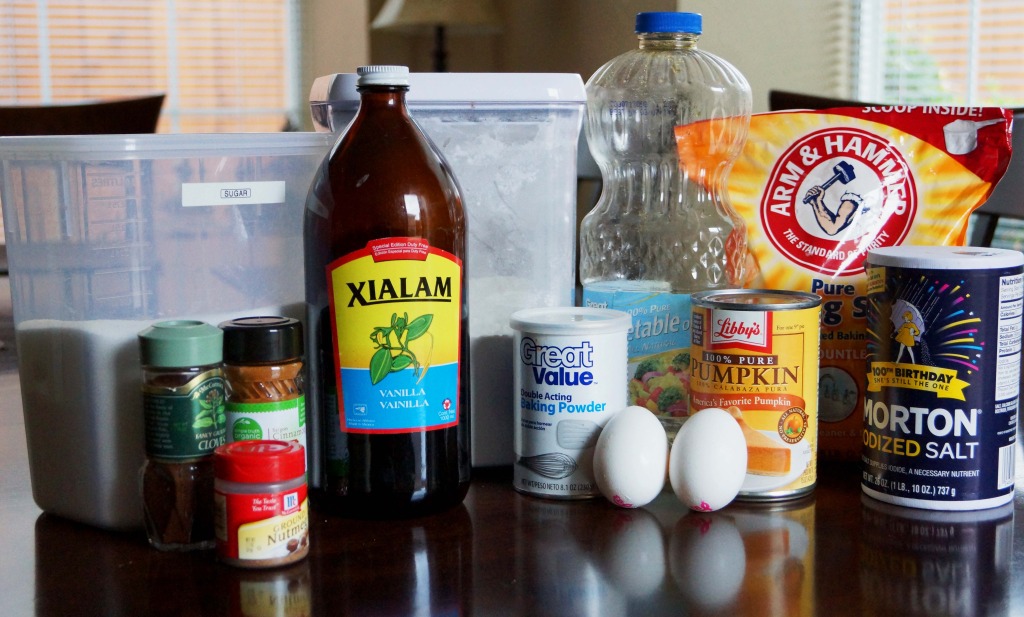 *Note: The original recipe calls for ginger but I chose not to add it since I'm not a big fan of ginger. If you are curious to try the recipe with it, click here to go to the original recipe
For the frosting you will need:
1 cup (2 sticks) butter
8 oz. cream cheese
1 teaspoon vanilla
1/2 teaspoon cinnamon
2 cups powdered sugar
For the sugared pecans you will need:
2/3 cup pecans
1 tablespoon butter
1/4 cup brown sugar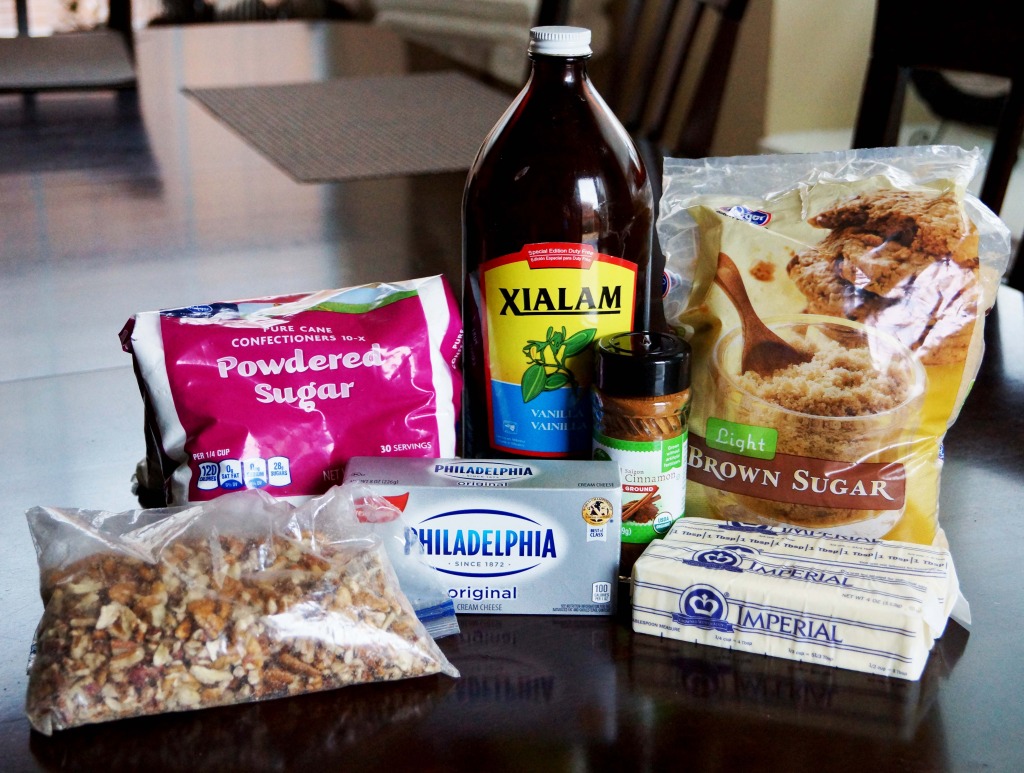 When I made these cupcakes I prepared the cupcake portion first and then made the frosting. Because you have to let the frosting chill, I would recommend to prepare the frosting first and then make everything else while it chills.
Cupcake directions:
Preheat the oven to 375ºF
Combine the pumpkin, eggs, oil, vanilla, and sugar in one bowl
Stir the remaining ingredients together in a separate bowl
Frosting directions:
Cook the butter in a pan on the stove until browned
Add the cream cheese, vanilla, cinnamon, and powdered sugar and mix until smooth  
Chill the frosting until it's pretty cool (about 1 hour)
Beat until fluffy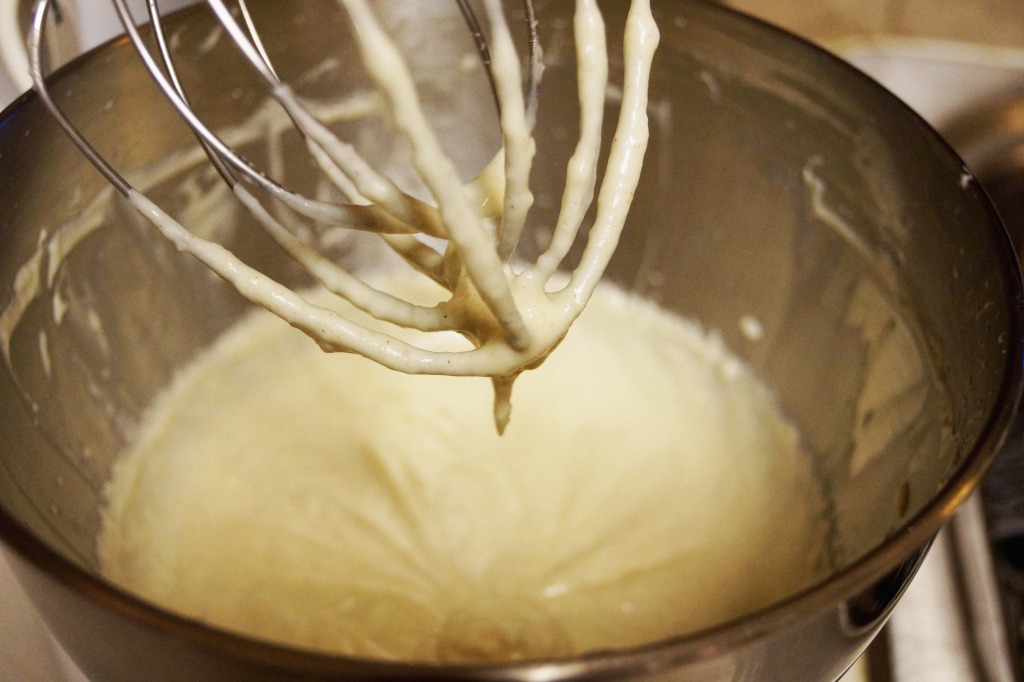 Although it probably seems very obvious, make sure to add the cream cheese in small increments. I accidentally dropped the whole bar of cream cheese into the hot butter and needless to say, I made a huge mess. Butter ended up splattering everywhere and it was not fun to clean it up.
Sugared pecan directions:
Combine the pecans, sugar, and butter in a pan on the stove                                                                                  
Cook on medium heat, stirring occasionally, until the sugar is all melted
Cool on a piece of greased parchment paper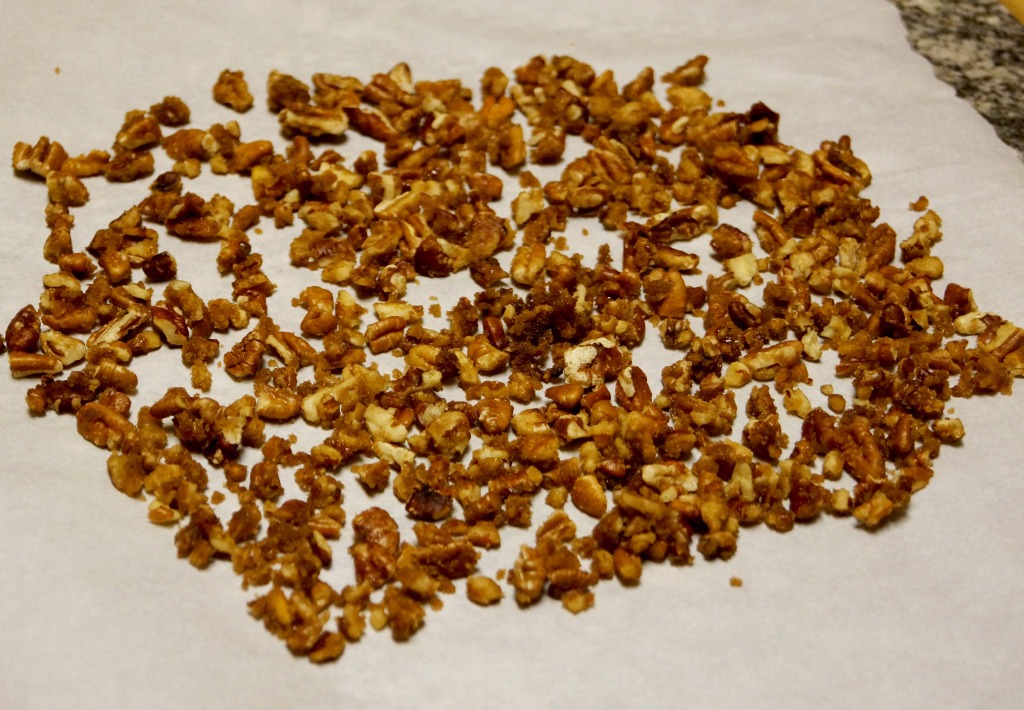 As the cupcakes were baking in the oven, I could begin to smell the fall aroma filling my house. Even my sister said she couldn't wait to try them because "they smelled wonderful".  And let me tell you, they were wonderful! These cupcakes had the perfect amount of pumping flavor to them. The actual bread was very spongy and moist.
Because of the cream cheese, the frosting ended up having a little bit of a tangy flavor, which I thought complimented the pumpkin very nicely. Considering how much butter I lost when it splattered everywhere, the frosting tasted a little too much like butter. Next time I'll probably put less than the recipe calls for. Although I'm not a big fan of pecans, I thought that the sugared pecans added a nice crunch to the cupcakes. I'm really glad that I didn't leave them out.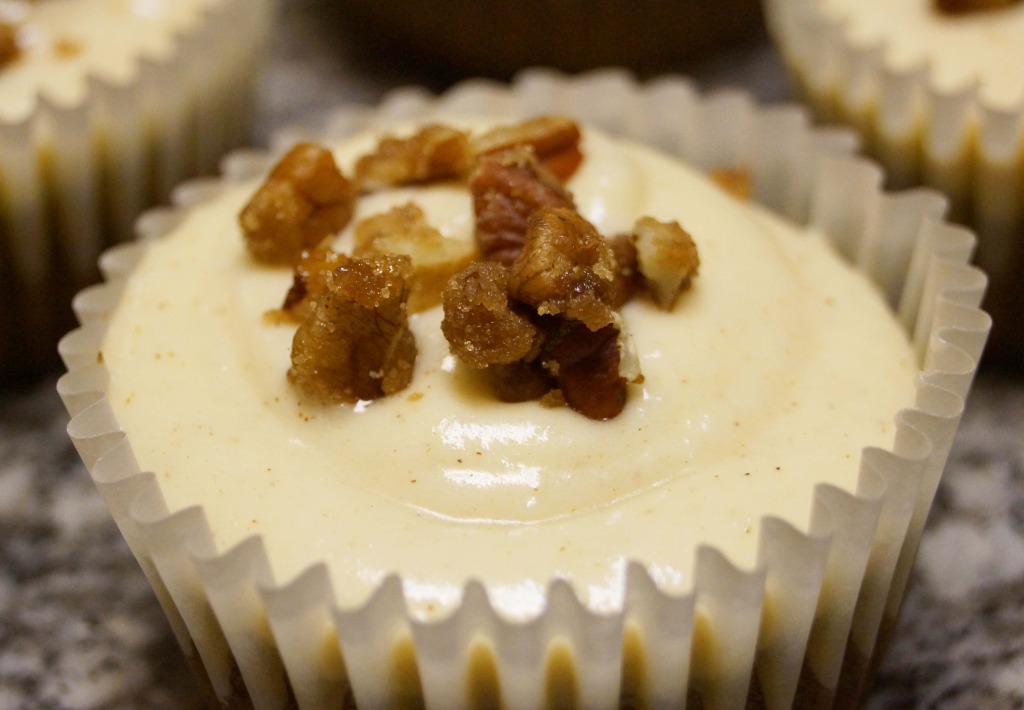 Overall, I had a great time making these cupcakes. Not only were they simple to make but they were also really delicious. My family said that these were their favorite cupcakes that I have made and I would definitely have to agree with them. I'm even thinking about making them for Thanksgiving for the rest of my family to try… that does seem like it'll be a lot of work though so maybe I won't…. I don't know, I'll keep you guys updated.