Acitalan15 15 min. 18 min.
This week I was inspired to try making some blueberry cupcakes of my own. I've never actually tried a blueberry cupcake before, so I was excited to search the internet for some recipes! I found a lemon blueberry recipe from the Cake Blog. Many of the reviews from this post were very positive and lemon and blueberries sounded like an interesting combination, so I decided to give it a go!
For this recipe you will need:
3 cups cake flour
1 tablespoon baking powder
1/2 teaspoon baking soda
1/2 teaspoon salt
8 ounces unsalted butter, room temperature
2 cups sugar
3 eggs
1 tsp vanilla extract
zest of 1 lemon
1 cup whole milk
1 cup blueberries                                                                                                    
And for the lemon cream cheese frosting you will need:
16 oz cream cheese, softened
4 oz unsalted butter, room temperature
2 lbs confectioners sugar
1 teaspoon vanilla extract
1 lemon, zest and juice
Steps for the batter:
1. Preheat your oven to 350 and line two muffin tins with cupcake wrappers
2. Sift together flour, baking powder, baking soad and salt. Set aside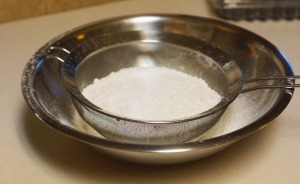 3. Gently toss blueberries with a light coating of flour.  Set aside. (Note: if the blueberries have stems, make sure to remove them first)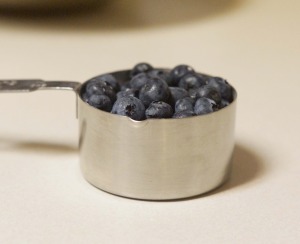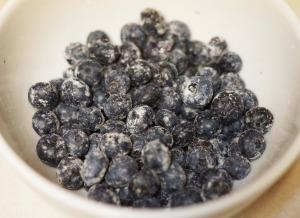 4. In the bowl of a stand mixer, beat butter and sugar on medium-high speed. Beat until pale and fluffy (about 5 minutes)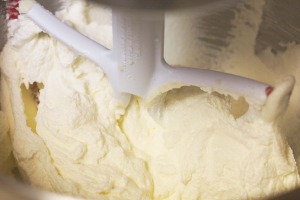 5. With the mixer on low, add eggs one at a time.  Make sure to mix well after each egg
6.  Add one third of your dry ingredients and mix on low, just until combined. Then add one half of your milk. Repeat these two steps alternating dry, wet, dry (make sure not to over mix)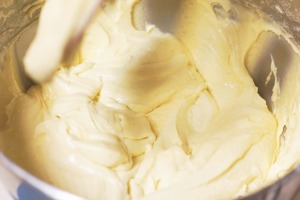 7. Add vanilla extract and lemon zest and give it a final mix
8. Fill cupcake liners 2/3 full with batter and then top each cupcake with 3 to 4 blueberries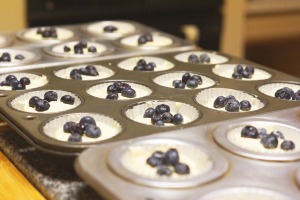 9. Bake 17-19 minutes or until toothpick inserted in center comes out clean
Steps for the lemon cream cheese frosting:
1. Using a stand mixer fitted with the paddle attachment, mix the butter and cream cheese until smooth (about 1 minute)
2.  Add vanilla, lemon zest and juice and mix until combined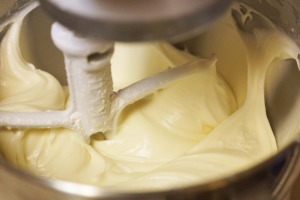 3. Gradually add confectioners sugar until completely combined
4. Refrigerate for about 20-30 minutes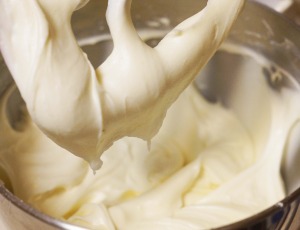 I followed these steps very closely… well up until about step 6. How could I?? I know! Well you see, I misread the instructions and accidentally added all the flour mixture first and then added the milk afterwards. I was worried that this would mess up the texture and consistency of the batter. As I poured the batter into each of the cupcake liners, I noticed it was very thick. It didn't have the liquidy consistency that I'm used to cupcake batter having. But fortunately, the bread was not affected! It came out very moist and crumbled perfectly in my mouth.
The frosting thickened after I placed it in the refrigerator, so I would strongly suggest refrigerating it before you frost the cupcakes. It definitely holds its shape better after its refrigerated.
The frosting was a little too sweet for my liking, but the flavor was great! Next time, I would probably add like 1 lb of confectioners sugar (half a bag) instead of 2 lbs.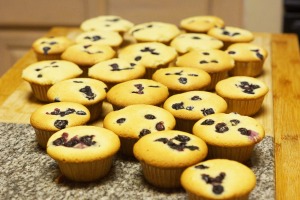 Overall, I thought the flavor of the cupcake was really good! It didn't taste much like blueberries though. It seemed like the blueberries were added more as a garnish, as opposed to the flavor.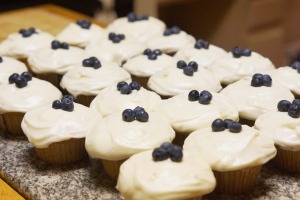 They went well with the cupcake but I wouldn't consider these cupcakes blueberry flavored. If you're looking for a recipe to make blueberry cupcakes, I wouldn't suggest this one. But if  you would like to try a lemon cupcake recipe, I would definitely recommend it (just take out the blueberries). The lemon flavor was very apparent but not at all overpowering. The bread combined with the lemon cream cheese frosting made for a very delicious and beautiful cupcake!