Acitalan15
Over the weekend my iPhone screen cracked. I was completely devastated to see the phone I had taken such good care of, broken in a matter of seconds. On Monday after my classes, I took it to get it fixed. It felt so weird leaving my phone behind with a complete stranger. You know how some people say that it's difficult for them to leave their children with babysitters because it's hard for them to trust someone with their offspring? Well that's exactly how I felt about leaving my phone…What? Oh come on. You're lying if you say that you've never treated your phone like your baby. Anyways, so the man told me that it would probably take him about an hour and half to fix it, so I had no idea what I was going to do to spend the time. When I walked out of the store I looked to see what was around, and lo and behold, there was a cupcake shop right across the street! I looked up at the sky and gave the big man upstairs a thumbs up because I knew he was looking out for me. He knew I was sad about my iPhone, so he put a cupcake shop in my path to cheer me up!
The shop is called Gigi's Cupcakes. I believe it is a chain, so they have locations in various states. The one I went to is located on  East Hebron Pkwy and Midway road in Carrollton, Tx.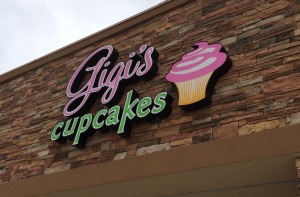 When I walked into the store I noticed it was very inviting. The customer service at this particular Gigi's was great too. Right away I was welcomed and asked if I had ever been there before. When I said no, they showed me the flavors they had for the day and they explained their Loyalty Club. For every dollar you spend, you get one point. Once you've accumulated  50 points, you get a $5.00 reward. If you sign up with them online and enter all your information, you will get a free cupcake on your birthday. I think that's a pretty awesome deal! I mean who doesn't want a free cupcake on their birthday?!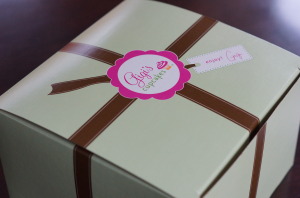 I went on a Monday, but if you look at their menu online, you can see what flavors they offer on each day. After looking at the cupcakes I decided to go with the Triple Chocolate Torte (basic), Carrot Cake (favorite), and Spicy Apple Cider (different). (To see how I choose my flavors click here)
The Triple Chocolate Torte was very rich. It might have been a little too rich for my liking. The bread was very dense and resembled more of a brownie than a cupcake. The frosting had a subtle flavor. It kind of reminded me of store-bought frosting, but not as sweet. At first when I tasted it, I expected it to gradually get sweeter, but to my surprise, the flavor just faded away. Considering how rich the cake portion was, the frosting shouldn't have even been sweet, so it worked out perfectly. It's so rich that you could eat half of the cupcake and completely satisfy your chocolate craving. This would be a perfect cupcake to share with someone!
I know a lot of people are not fans of carrot cake but I love it! And considering the fact that I don't like carrots or pecans, this is actually pretty ironic. The cake portion of this Carrot Cake cupcake had a lot of texture. You can see the slices of carrots and chunks of pecans, and you can definitely taste them too. I think it had great flavor. The frosting may have been cream cheese flavored but it tasted a little more like vanilla to me. I still thought it balanced the bread out very nicely though.
The Spicy Apple Cider cupcake was one of their "throwback fall" flavors. When I saw the presentation that this cupcake had, I knew I wanted to try it out. On top of the frosting, it had a dried apple slice, a cinnamon and sugar covered pretzel, and some apple flavored drizzle. It looked really cute and delicious!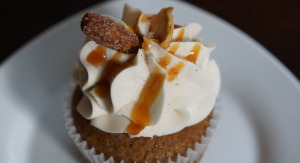 When I sliced the cupcake open, I noticed that it had some apple cinnamon filling in the middle, and the bread tasted like it had cinnamon and nutmeg in it. At first, I was expecting it to taste like the carrot cake, minus the pecans or carrots, but it didn't at all. It had it's own great flavor. The frosting tasted like it was vanilla mixed with cinnamon, so it ended up complimenting the bread very nicely. Overall, you could tell that the cupcake had a present but not overpowering apple taste. All the flavors were balanced out well.
All in all, I really enjoyed Gigi's Cupcakes. Based off of the flavor, presentation, and great customer service, I would give them a 4.1 out of 5. If you ever come across a Gigi's Cupcakes, you should give them a try and let me know what you think!