Acitalan15 5 min. 1 min.
This week I didn't really feel like baking a batch of 24 cupcakes, and the thought of having a new set of cupcakes around didn't sound very appealing. Don't get me wrong, I love sweets and desserts, but I can only take so much in such a short time. I searched the internet for how to make a small batch of cupcakes and came across Kirbie's Cravings mugcakes. They're basically recipes for personal cakes that you can make in a mug! How awesome is that?! I realized that these would be really awesome for college students to make, or for anybody that is just craving a little something sweet. Plus, I wanted to eat a mini cake that was served in a cup, hence an actual cupcake! Kirbie's Cravings had a variety of mugcakes to choose from, but because of my undying love for Oreos, I felt obligated to make the cookies and cream mug cake.
For this recipe you will need:
1/4 cup white chocolate chips
3 tbsp whole milk
4 tbsp all-purpose flour
1/4 tsp baking powder
1/2 tbsp vegetable oil
2 Oreo cookies
-1/4 tsp vanilla extract (Note: I added this because I love vanilla extract and because Kirbie's Cravings suggested it in one of the comments)
Directions:
1. Combine white chocolate chips and milk in an oversized microwave-safe mug. Microwave for about 40 seconds. Mix with a small whisk (or fork) until the chocolate is completely melted
2. Add flour, baking powder, oil, and vanilla extract and whisk until batter is smooth
3. Put Oreos in a ziploc bag and smash until small chunks of the cookies remain. Pour them into the batter and mix
4. Cook in microwave for about 1 minute. Let the cake cool a few minutes before eating. Cake is best consumed while still warm
Not going to lie, I was a little skeptical  about these mugcakes. I mean how good can a cake be if it's microwaved in a cup? When I placed all the ingredients in the mug to microwave for the final minute, I had my doubts. How could this cupcake be entirely cooked in only a minute? Well to my surprise, when my microwave rang telling me that one minute was over, the cake was cooked! I put a toothpick in the center, just to make sure, and sure enough, the toothpick came out clean. I let the mugcake cool for a little and finally dug into that bad boy. The cupcake was a tad dry but still moist considering how it was made. It was lacking a little sugar, so maybe next time I'll add more white chocolate chips (I'm assuming that was the ingredient that substituted the sugar).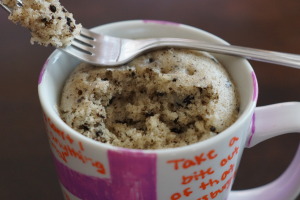 Overall, I'm pleasantly surprised with how this came out. I will definitely be trying out some of the other recipes that Kirbie's Cravings has posted. While I feel like this specific recipe deserves about a 3.5 out 5, I would like to try some of her other mugcakes in order to give a final verdict over her recipes. If you're just a tad bit curious about trying out these mugcakes, you definitely should give them a try. I mean, what could get much better than a cupcake that can be made in about 5 minutes?!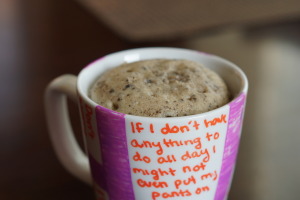 (PS: look at the awesome mug my best friend made me for my birthday. It's covered in Jennifer Lawrence quotes! Isn't it awesome?!)