Acitalan15
Earlier this week I had to go shop for some new clothes. While this may sound like it was something I was excited to do, it was most definitely not. For as long as I can remember, I have always despised the sheer thought of having to shop. That's why every time I have to do it (emphasize on the have), I treat myself to a little treat afterwards. Luckily for me, there was a cupcake shop right around the corner from where I had been shopping! I had tried this place a couple of times before, but I decided to go in and try it with the mindset of a dessert critic.
This place is called Bliss Cupcakes & Confections. It  is located in Village of Allen right off of highway 75.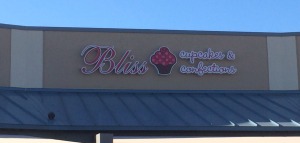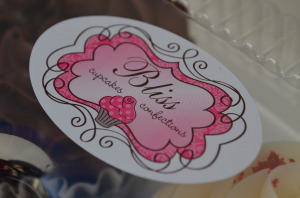 So when I went to Bliss Cupcakes & Confections, I decided to go with a Chocolate Bliss (basic), Red Velvet (favorite), and a Blueberry Almond Strudel (different). (To see how I choose my flavors click here)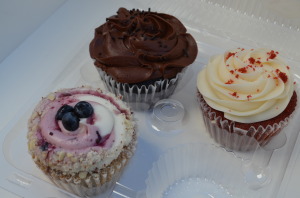 The Chocolate Bliss cupcake was surprisingly very rich and dense. The cake portion was very moist and actually tasted like dark chocolate. The frosting on the other hand was a little too sweet for me. Although it did compliment the bread nicely, it tasted like it might have had too much powdered sugar.
The Red Velvet cupcake was hands down my favorite! It might also be one of my favorite red velvet cupcakes in general. The bread was spongy and had a very intriguing flavor that made me want to continue taking more bites. The frosting had a subtle cream cheese flavor that was not at all overpowering. I expected it to be very sweet but it was absolutely perfect! And together, the frosting and the bread were magical!
The bread for Blueberry Almond Strudel cupcake had a nice blueberry muffin taste, but did not have the consistency of a muffin at all. It had a very airy light texture which helped remind me that I was eating a cupcake and not a muffin. The bread had chunks of blueberry, which helped enhance the flavor. The frosting tasted like regular vanilla frosting, but because of the color, it seemed like they swirled blubbery flavoring into it. But to be completely honest, I wouldn't have even been able to tell that the  frosting was anything other than chocolate had I not looked at the appearance. Around the sides there were pieces of almonds that gave the cupcake a nice little crunch. Overall, I think this cupcake was alright but might have been a little to sweet.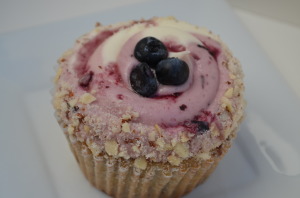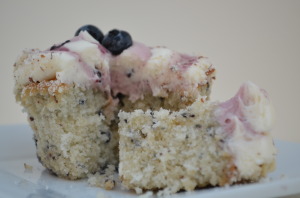 After tasting these 3 cupcakes, I would give Bliss Cupcakes & Confections about a 3.8 out of 5. While their bread is moist and fluffy, I feel like their cupcakes leaned a little too far onto the sweet side. But if you're around the area and craving a dessert, I would definitely suggest trying this place out. And if you get the chance, I would highly recommend their Red Velvet Cupcake!